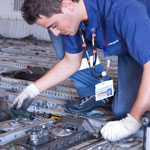 Since 2011, the OGBL has persisted in its efforts to revalorize the career of aircraft mechanics.
The problems faced were related to the recognition of training, the issuing of licenses and obtainment of a national technician diploma for license B holders.
An OGBL working group under the leadership of Joel Krier has been working on the resolution of the encountered problems. Several meetings and discussions concerning the matter did take place with the
DAC-L, the Lycée Technique Emile Metz, the Ministry of Education and the Ministry of Transport. Some individual cases were successfully resolved. We remain optimistic that the resolution of our current concern in relation to the obtainment of a national technician diploma (diplôme de technicien) for all license B holders is within reach.
On 24th of April 2013 the working group consisting of Joel Krier, David Massaro, Hubert Hollerich (secretary of Civil Aviation Union) and Annette Schuler (president of Civil Aviation Union), assisted by Carlo Frising (Training Department of the "Chambre des Salariés") had an important meeting with the Ministry of Education.
Every concerned individual has now the opportunity to lodge an application in order to obtain the aforementioned diploma (diplôme de technicien). Due to the extreme complexity of this administrative procedure, the OGBL has taken the initiative to implement specific consultations to help individuals in establishing their file.
In a first step, information meetings are being organised in order to provide further details (see below). All interested colleagues are invited to attend these meetings.
Information meetings for aircraft mechanics:
1st meeting: Tuesday, 14 May 2013, 13h00
2nd meeting: Tuesday, 14 May 2013, 16h00
Meeting place: Centre culturel Sandweiler, 18, rue Principale, L-5240 Sandweiler
OGBL Civil Aviation Union
26 April 2013
Contact person:
Hubert Hollerich, cell 621 144 190